Leave a comment
March 24, 2012 by yamakashi
Via Scoop.it – Scenario 25 club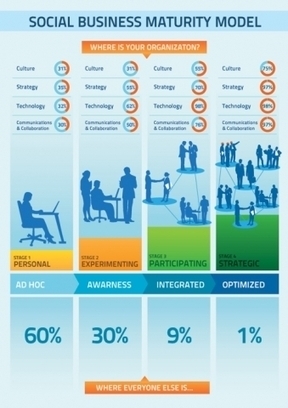 This piece was written by Mark Fidelman for Forbes, great information and insights to help you rethink what you're doing with your social business strategy.
Excerpt:
**Neither Rome nor a Social Business was Built in a Day
Where does your organization fit in?
**Do you have a few social media heroes testing the social business waters?
Three "facts" about social business are accepted without question by most people.
**any business with a Facebook page or Twitter account is considered "social"
**hiring a social media person constitutes a social "presence"
**implementing an intranet transforms the organization into a "collaborative" enterprise.
The Assessment
**What sense does it make to dive into social media without first recognizing where you are today?
Below is a chart that we've compiled based on over 80 recent discussions with executives from 60 organizations around the globe.
**this is very useful
Selected by Jan Gordon covering, "Content Curation, Social Business and Beyond"
Read full article here: [http://onforb.es/GJIxp4]