Leave a comment
April 10, 2012 by yamakashi
Via Scoop.it – Scenario 25 club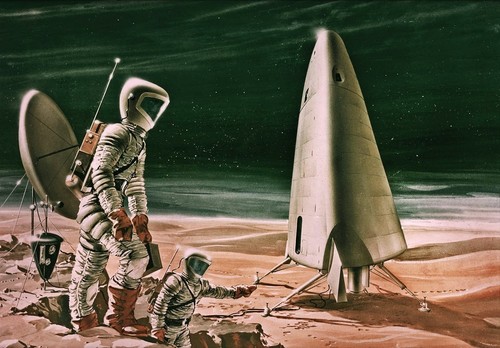 Piloted spaceflight planning typically emphasizes transportation; that is, ethods of traveling from Earth to some destination and back again. Other than landing and liftoff, astronaut activities on the surface of a target world
normally receive little attention. This is not too surprising at the present stage of spaceflight development, given the many challenges inherent in moving humans between worlds.
What is more surprising is that, as early as 1965, NASA's Marshall Space Flight Center (MSFC) turned its attention to the scientific tasks astronaut-scientists might perform on Mars. In that year, as part of an ongoing series of Mars mission studies that began in 1962 with the EMPIRE manned Mars/Venus flyby/orbiter study, the Huntsville, Alabama-based NASA center contracted with Avco/RAD to study manned Mars surface operations. This truly was far-sighted thinking; when MSFC contracted with Avco/RAD, NASA, with President John F. Kennedy's end-of-decade deadline for a manned moon landing fast approaching, had barely begun to pay serious attention to the scientific tasks that Apollo astronauts would perform on the moon.